In a society where work is a main focus, we often become consumed in meetings, deadlines, and everyday work stresses. As a result, the actual comfort of a working environment is oftentimes overlooked. However, your workplace environment truly can make or break your level of productivity, and even your happiness. Business owners, bosses, and others in leadership should work to find different ways in which they can create a positive working environment for their employees. In fact, there are many small changes that can be implemented to lead to a happier workplace, all of which can be addressed with one solution: window film.
Let There Be Light
According to a survey conducted by Future Workplace, access to natural lighting and outdoor views are the number one attribute of a workplace environment. Additionally, in this study, they found that 47% of employees feel tired due to the absence of natural light, and 43% feel gloomy. Think about working in a dim, fluorescently lit space — not too pleasant! However, windows can also be a double-edged sword. They can cast bothersome glare across computer screens, create uncomfortable interior temperatures, and allow harmful ultraviolet rays to enter a space. While curtains and blinds may be able to eliminate glare, in doing so, they eliminate sunlight and views. That's where window film comes in!
With Sun Control Window Film, you can welcome sunlight into your space, while minimizing glare, rejecting heat, and protecting against UV rays. The result? A comfortable naturally lit space. This window film's heat rejecting ability not only leads to increased comfort but also improved energy efficiency and lower energy bills. Additionally, it rejects up to 99% of UV rays, minimizing the fading of furnishings and flooring. With a variety of different solar control window films to choose from, you can find the perfect film for your space. Improve occupant comfort, while still welcoming sunlight and outdoor views.
Confidentiality Is Key
In the office, there are some instances in which privacy is necessary. While glass conference rooms and office walls have become a popular architectural feature, they also eliminate privacy. Curtains and blinds certainly allow for privacy, but they can take away from the aesthetic of your workplace. Don't sacrifice aesthetics or privacy, with window film, you can achieve the best of both worlds!
Decorative window film comes in a variety of patterns, textures, and colors. This film has the ability to create subtle privacy, without eliminating natural light as a whole! Maintain the open space feel, without sacrificing confidentiality in the workplace. Not to mention, the endless patterns and designs of this film allow for enhanced aesthetics in your space, allowing you to add a unique element of design.
If you don't want the added designs to glass conference room walls, perhaps you could opt for Casper Cloaking Technology! This innovative product has the ability to obscure display screens like laptops and TVs. However, it doesn't change the appearance of the glass! As a result, sensitive information displayed on technology screens will appear as a black screen to those on the other side of the glass. This allows for confidentiality, without changing the appearance of the glass in your workplace.
Brand Your Space
It's no secret that the brand of your business is important. However, the importance of your brand isn't limited to how you present it to the outside world! Branding throughout the workplace is equally as important. The reason being is that it can boost productivity and employee morale. Seeing your brand, be it your logo or your message, throughout the office is a great way to foster productivity and even excitement in the workplace.
With our custom vinyl graphics, we can bring your brand to life. These graphics are 100% customizable so that you can create exactly what you have in mind for your brand. From logos to phrases and more, our custom graphics will meet the needs of your space. Not to mention, they are more cost-effective than painting and are easier to install than traditional wallpaper. Beautifully display your brand throughout the office with custom vinyl graphics.
Play it Safe
When employees come to work, the last thing they should be concerned about is their level of safety. A lack of safety is not only an issue within itself, but can also minimize the overall productivity of the workplace. With that being said, an office full of glass walls and doors can actually pose quite a problem. This is because an employee can easily run into a crystal clear glass wall without even realizing it! Not to mention, in some cities, this might mean your building isn't up to code. As a result, some cities have a law in which businesses must use a solution called distraction markers.
Distraction markers are applied to transparent glass doors and walls to make them more visible. These distraction markers can come in a variety of patterns, colors, shapes, and sizes to fit the aesthetic of your workplace. As a result, they minimize the likelihood of an employee walking into the glass, harming themselves, and damaging the glass. Not to mention, while they increase safety, they also add a bit of flare to traditional, clear glass! Bring your building up to code, increase safety, and even add a touch of design while you're at it!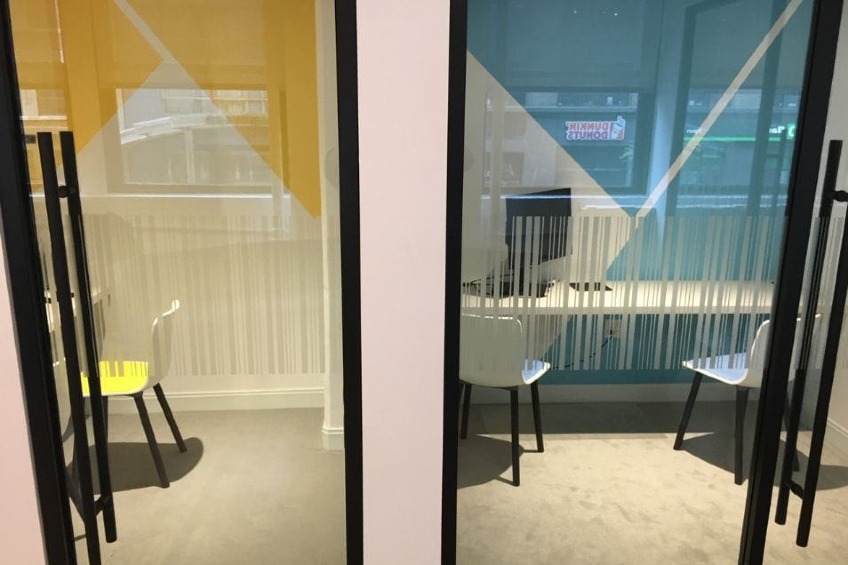 There are many different ways to create a positive working environment. It's important to identify the needs within your workplace and how you can effectively address them! Luckily, New York Window Film has a plethora of commercial window film solutions that can meet your particular requirements.
New York Window Film provides high-quality products and window film installations to Metropolitan New York, Long Island, New Jersey, and Connecticut. With window film solutions for both residential and commercial spaces, our products can help you achieve anything from sun control and security to decorative enhancement and privacy. Call us at (631) 420-4101 or (212) 256-1414 for more information, or request a quote online.