When your goal is to be welcoming to a community (intention as a new not-for-profit agency in Deer Park), yet wanting to provide an environment of privacy for your clients, thinking of a solution might not be easy.
In its all-glass "store front", PFY, a division of Long Island Crisis Center that offers vital health and human services to youth and young adults, needed to ensure the space was warm and welcoming while also maintaining the privacy of its clients in order to promote engagement into services.
"I came upon New York Window Film Co., and even though I didn't exactly know exactly what I needed or wanted, they listened to what I wanted to achieve and came up with the perfect solution: a window film that gave the privacy we needed while also allowing for the establishing of a warm and welcoming space. For youth who consistently face barriers in accessing services, I needed to ensure that we were not inadvertently doing the same thing. We couldn't have done this without New York Window Film Co.," says Devon Zappasodi, Project Director of PFY.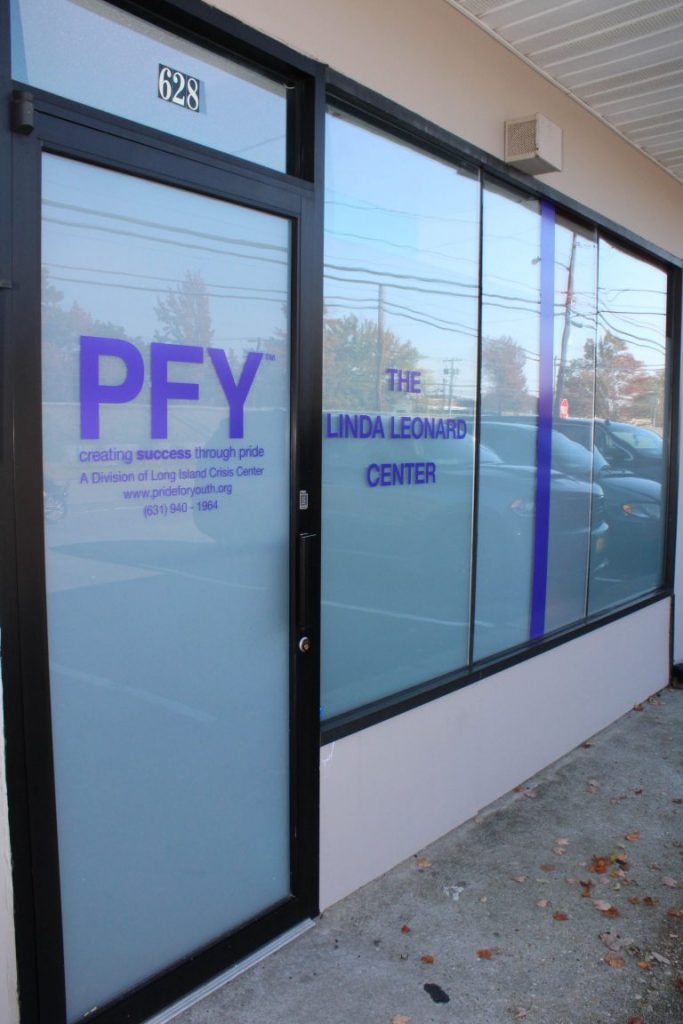 "Once a solution was developed, it was an absolute pleasure to work with New York Window Film Co. We had a pretty tight schedule because we wanted to kick start our services and programs within a couple of weeks of moving in," continues Devon. "They came, took measurements, did the installation without a hitch, parts free of charge and then we opened – right on time."
Types of Films Used For This Installation:
LLumar NRM PS2 Frost
Ideal for commercial interior glazing applications such as storefronts.
Can be custom cut for a decorative or patterned
appearance
Softly diffuses light
Helps shield harmful ultraviolet rays
Fraction of the cost of etched glass
Avery Dennison | Purple Opaque
"Imagine Every Color Possibility"
We can match almost anything you can dream up.
100% custom size, shape, image, adhesive properties and finishes
More cost effective
Turns walls into advertising or brand building opportunities
For all our stocked films, we can mail a sample in less than 4 days.
Contact us at 631-420-4101 for more information.